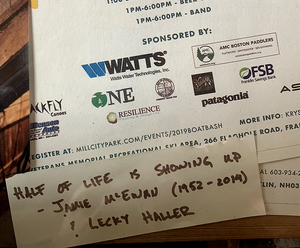 Half of Life...
This is the first in a series of staff intrapersonal writings regarding connections and learnings from our time spent outside or the pursuit of doing our best work in the outdoors.
A few years back, when the Outdoor New England and Mill City Park seeds were just being planted, my paths crossed with Mark Ciborowski. At the time he was the President of CATCH Housing, a NH based nonprofit redeveloping the Franklin Light and Power Mill.
After spending more time with him, I realized he was THE Mark Ciborowski, Olympic Hopeful, C1 and C2 whitewater slalom paddler.
[Enter Sidebar]
I had watched him and others race at the Merrimack River during the July 4th festivities. This was back when the river still had whitewater slalom gates at Arm's Park, where the Crack Pipe Wave still sits. Unfortunately, the 15 inches of rain that fell on and before Mother's Day 2006 ripped down all the wires and gates and sent them downstream. To this day no organization has put the pieces back together to reinstall them.
Through John Porterfield's voice, the March/April 1988 American Whitewater Journal remembers the Manchester's Riverfest -
"We have also sponsored slalom races and hot-dog contests at this site for the Manchester Riverfest Celebration over the past three years."
Check out page 29 & 30. The editorial talks about the author's efforts with Mark on the construction of the course.
[Sidebar Over]
On a rainy day in Franklin, there was an unveiling and tour of Mark's project. After the festivities were over and the crowd dispersed, Mark and I chatted for a couple minutes. I can't recall the whole conversation, but it was most likely about the difficulties of the whitewater park development at that moment in time. 
I do remember that he offered some words of encouragement, from his friends and fellow whitewater kayakers; Lecky Haller and Jamie McEwan...
"Half of life is showing up."
Supposedly, this was an ongoing saying on the days no one wanted to show up. I'm picturing the cold, rainy and dreary days, where the only place I want to show up is under the bed covers... You know the feeling. Those days when starting is the difficult part. Then add a cold wet river gear component. These are whitewater slalom paddlers training for the Olympics. They most certainly are getting wet once or twice a day.
Right now, you could be asking me how I remember the quote if I don't remember the conversation... Well thats easy. I came back to the shop and wrote it down. Why? I have no idea. I probably found it as encouragement or intriguing at the time. It has lived under glass on my desk ever since.
I think the first couple years of looking at the quote reinforced the literal expression. The idea that I need to show up physically, consistently and reliably. Show up and figure out a way to keep showing up. Be here, working, networking, talking, meeting people, applying to grants, selling something, anything, everything. The first couple years of any startup are really hard. Trying to make an impact, requires someone to show up. My interpretation is obviously a very literal one. However, I'm a literal person and very gullible. So there you have it. That is what I did. I just showed up. 
It wasn't until recently, where I opened my gaze and realized the two large shortcomings with my logic. 
Shortcoming #1 - The Other 50%
Lecky trained and paddled at a competition caliber for more than a decade. "Half of Life is Showing Up" - what about the other half? Everything that happens after showing up; training, paddling, getting faster, stronger, smarter, more efficient, more effective. Lecky was showing up and then doing his best work, not showing up for perfect attendance. With the goal of competing against the best or being his best.
In contrast to Lecky, who is a metaphor for anyone working relentless towards a pursuit, was I (am I) really training... getting better, smarter, more efficient, more effective? Perhaps in certain aspects, perhaps not. I never had a classic business experience, my education was more of a learn by doing experience with no proper coach or mentor. Thankfully, the Goldman Sachs 10,000 Small Businesses Program helped by providing us a real training program. A framework and education that would connect us to other New Hampshire entrepreneurs and industry experts. The program enabled us to get a proper training. One that would improve every aspect of our business and the value we bring to the community's we serve.
Shortcoming #2 - Enablers
This group of people isn't explicitly identified in the quote. It is illogical to think that Lecky or anyone focused on a pursuit whether infinite or finite, doesn't have supporters or enablers that help them stay the course. This could be loved ones, family, friends, believers, any or all of the above. These people help out, they attend events, put up with the late night phone calls, the meetings, the random ideas, all the wacky times those ideas rise and the consistent inconsistency of life. 
For entrepreneurial ventures, I believe that the selflessness of a supporter is in direct contrast with the characteristics of a good entrepreneur; single-mindedness, drive, relentless passion and focus to an idea or concept. This person (and yes I know this from experience) can and will neglect parts of their life to continue their work.
Said slightly different, a relentless and tireless pursuit can yield neglect to the other parts of your life. We all have pursuits, goals, objectives, in which our triumphs and failures shape our views and how we live our lives.
As part of my journey, I've done terribly with a lot of this. My words are words and not actionable steps that I've put into practice. It is time to work smarter and not harder (something my Dad always said I always needed to do). It is also time to ensure I show up for those who have and do show up for me, this is my 2021 New Years Resolution. What is it all for, if you aren't creating memories with those you love most.
After a bunch of paragraphs and run on sentences, my take away is this -
Half of life may be showing up, but don't forget to show up for all the things you choose to do and those that help you do them.
Just keep paddling,
Marty
---