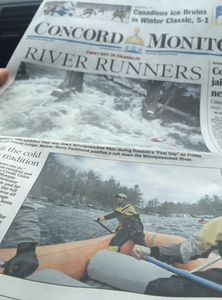 First Day 2016
TODAY OUTDOOR NEW ENGLAND OPENED, it's doors to the City,
Merrimack Valley Paddlers, the public, and whitewater enthusiasts alike. It was a blast! We had delicious free beer from Franklin's newest local brewery, a silent auction, a raffle and over 100 interested visitors. The participation was incredible! And the winners of new paddles, boats, and other gear seemed pretty happy!
ONE was lucky enough to have a great run with Concord Monitor's Elodie Reed and be featured in the newspaper along with our partners in Franklin's revitalization. We are grateful for the opportunity and can't wait for the future... Thank you to Mrs. Backpack 1977, Andrea O'Brien of NH SBDC, Jeff Fluet of NH Kayak Center, Todd Workman and Tim Morrill of PermaCityLife, Joe Kildune of Toad Hall, Oscar Gala Grano of Take Root Coworking Center, Jo Brown of the Franklin Studio, and the motivated talented groups of Choose Franklin and the City of Franklin.
This is going to be fun!
---